Port of LA Director Says Shift to 24/7 Operations Won't Happen Overnight
Monday, October 18, 2021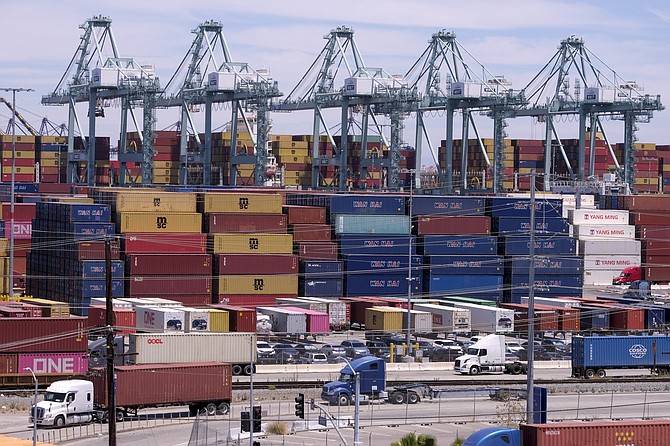 About two dozen cargo ships are set to arrive to the San Pedro Bay port complex this week and queue up alongside another 60 vessels waiting to be unloaded. Their time at anchor, however, might be shorter than the 12-day pattern that has played out for other ships since the start of the busy season in August.
 
After securing support from major retailers and the International Longshore and Warehouse Union last week, the local ports are working on expanding their operations to a 24/7 model.

Port of Los Angeles Executive Director Gene Seroka did not provide specifics but likened the process to "getting this entire orchestra of participants to get on the same calendar" and said there's "not a single lever we can pull today to open up all the gates" immediately.
 
"What we're doing is this trying to squeeze every minute, every hour of efficiency out of this port complex that we can," he said during a video press conference Oct. 14. "We've got commitments from some of the biggest importers in the country … and their ability to (pick up their) cargo off our docks, so we can bring the next ship in is really key."

The move to 24/7 operations comes as the dockworkers and terminal operators at
Port of Los Angeles processed nearly 900,000 twenty-foot equivalent units of cargo last month, about the same as in September 2020 and a 15% increase from 779,902 TEUs during the same period in 2019.
 
"We've already processed at the Port of L.A. more than 8 million TEUs (this year)," Seroka said. "That's up 26% compared to 2020 numbers."
Imports added up to 466,000 TEUs for the month, on par with last year's performance. The port handled 357,000 TEUs of empties — a 27% jump over last September — while outbound cargo slumped to 76,000 TEUs, a 42% drop compared to last year.

Port of Long Beach meanwhile moved 748,472 TEUs last month, down 5.9% from the same month in 2020. The volume of imports decreased 8.7% to 370,230 TEUs while exports were slightly down to 110,787 TEUs. Empty containers being moved through the port dropped 3.6% to 267,456 TEUs.

Industry experts attribute the increase in cargo volume to a continuous rise in ecommerce as homebound consumers shift their spending to goods instead of experiences.
 
Several other factors continue to contribute to unprecedented gridlock, including diminished capacity at warehouses to accept the cargo, which in turn causes an increase in time the containers sit at the docks or on trains or trucks waiting to be unloaded.
 
The local ports also contend with shortages of truck chassis and have pushed for trucks to drop off and pick up containers in the same trip to ease congestion.
For reprint and licensing requests for this article, CLICK HERE.